Are you planning to build a gazebo, swimming pool or a garden pond? Are you thinking of using stone, tiles or concrete blocks as the finishing materials? Our customer faced a similar dilemma when designing a garden gazebo with a jacuzzi. Find out why he opted for composite decking boards – and how it turned out for him.
Our customer was looking to build a floor in a gazebo with a jacuzzi. This was supposed to make the garden located in north-east Poland more attractive. He knew that the structure would only have to put up with seasonal use, low average temperatures as well as large day-night temperature fluctuations as it would not be heated.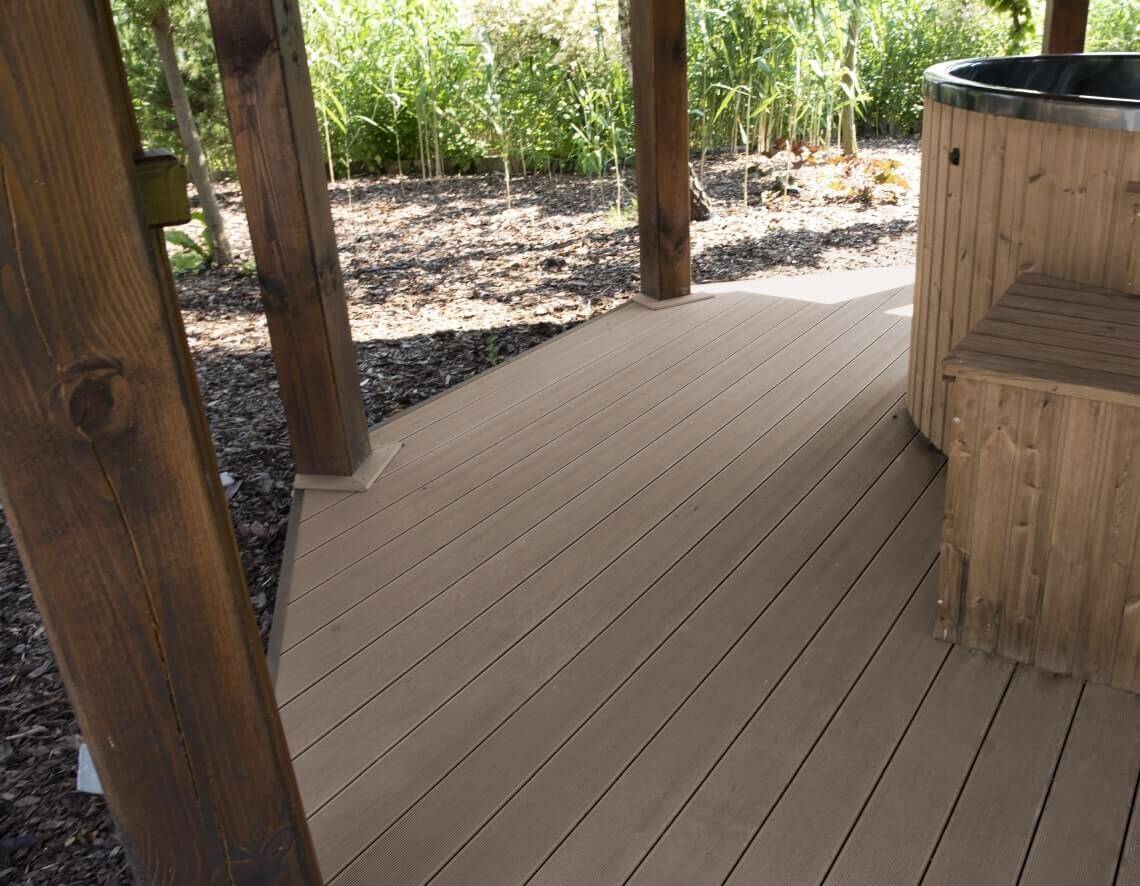 Floor of a garden jacuzzi gazebo – a triple challenge
The flooring material had to satisfy three basic conditions – durability, load bearing and safety. A fourth, more subjective condition called upon the customer's aesthetic requirements. The plastic had to be durable to ensure good attachment to the surface and to survive intact despite difficult weather conditions and being left to its own devices out of season.
The floor also had to withstand a tub with water and three people, a weight of more than 1500 kg – and this required a material with high load bearing parameters. The third challenge was to eliminate the risk of slipping on a wet floor, injury against a sharp corner, burning by touching a hot surface or splinters. The floor had to be non-slip but also pleasant for the foot in terms of smoothness, hardness and temperature.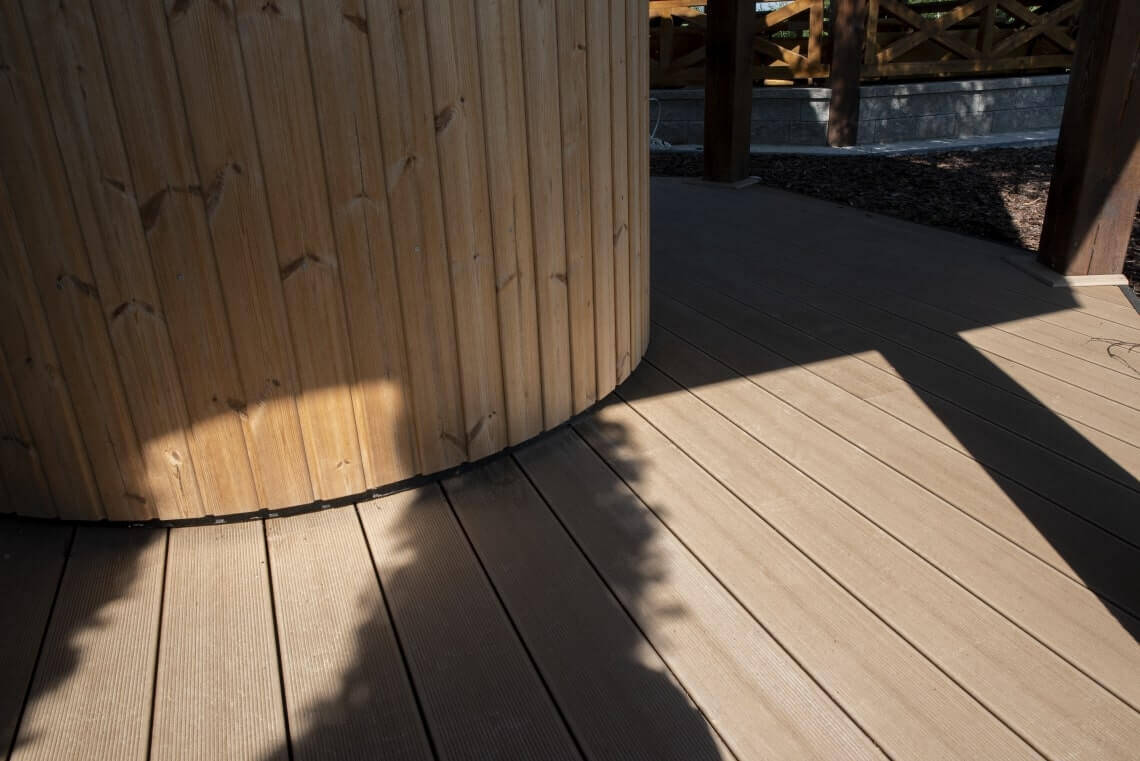 Stone, concrete, ceramics… or perhaps composite wood?
Four materials were in the running – granite, concrete, ceramics and composite wood. Ceramic tiles were the first to be rejected by our customer – due to the risk of them becoming detached from the substrate, heating up excessively through exposure to the sun and becoming slippery when wet. Granite slabs were appreciated for their durability and load bearing – however lost out when it came to safety (no resistance to becoming excessively hot and slippery). Concrete blocks came close to winning, as these satisfied most of the customer's requirements – however aesthetic qualities played their part here.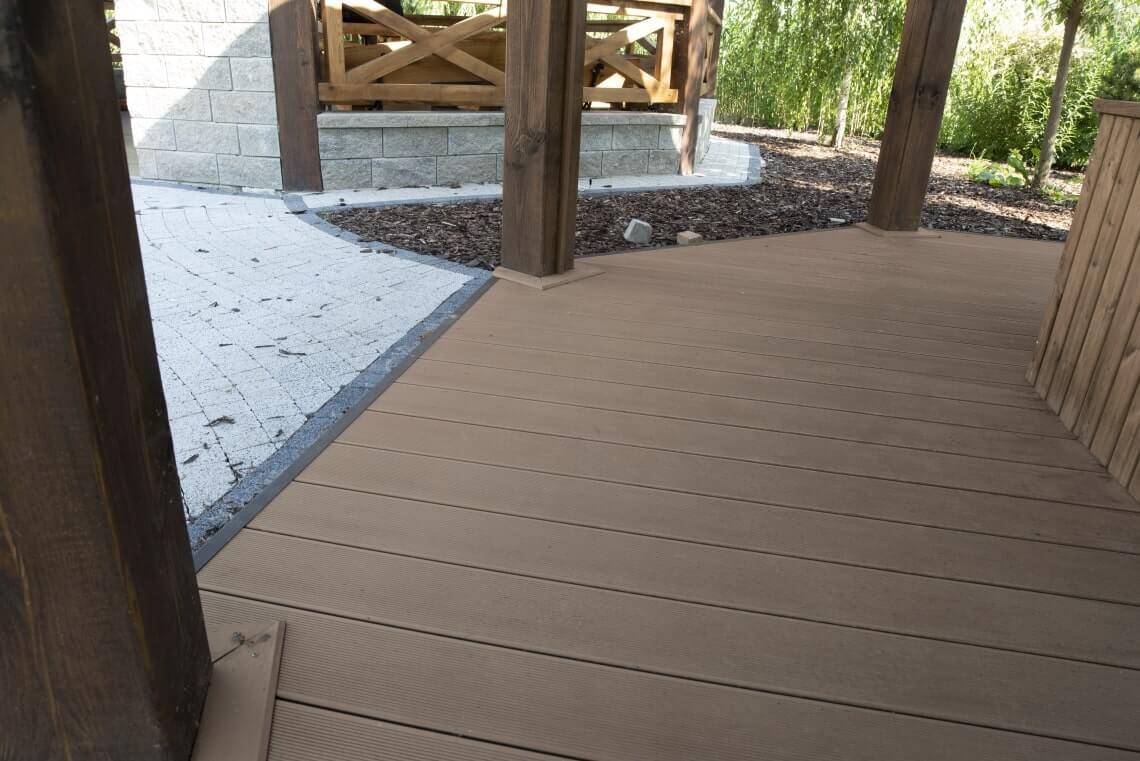 In the end the customer opted for composite wood. It delivered the required load bearing capacity, durability regardless of the weather conditions (also in winter and out of season when no one was looking after the gazebo) and safety – including low decking board flammability and heat accumulation, no splinters, irregularities or sharp edges. It is also non-slip (more about the properties of composite wood here)
The customer also wanted the floor not to contrast too much with the wooden structure of the gazebo and panelling which covered the tub. Thus the aesthetic factor also played a role in choosing composite wood – as well as the fact that the customer was able to select a decking board colour to match the remaining gazebo elements as closely as possible.
From design to the finished product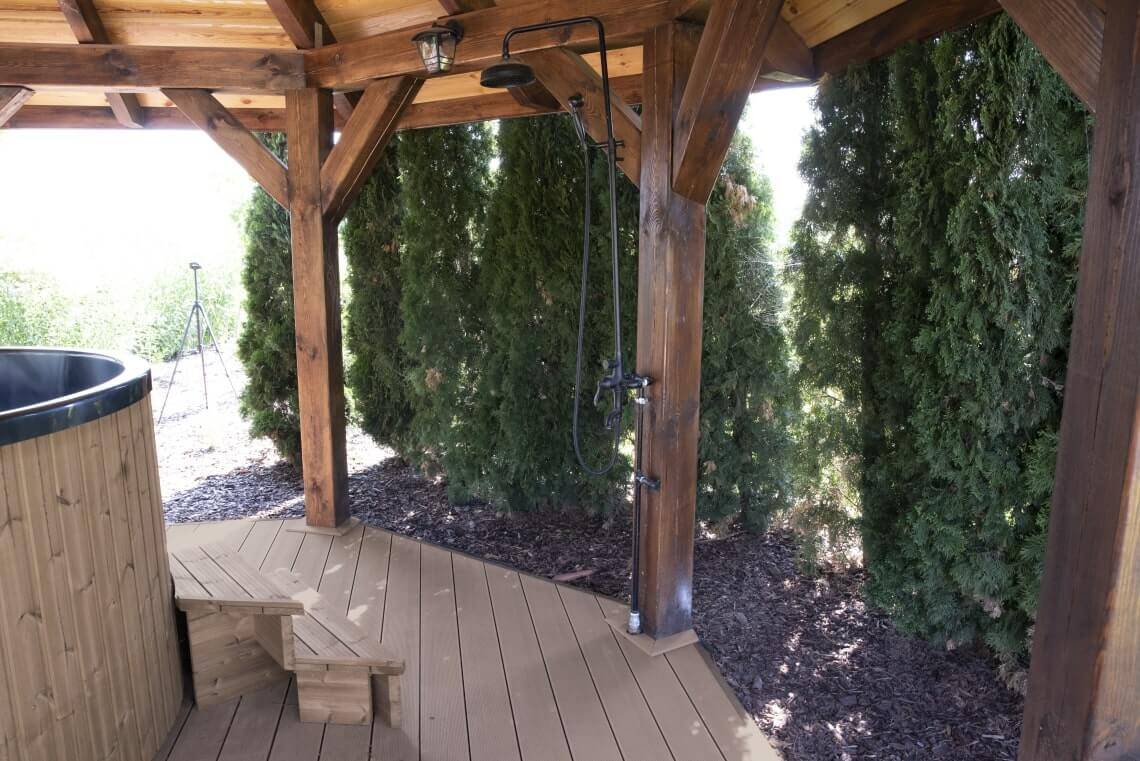 Once the material was chosen it was time to select a composite wood manufacturer. The customer opted for PVC composite decking boards which are more resistant, healthier and better quality (for a comparison of PVC and HDPE technologies see this article) – and came across Hartika, who only produces PVC composites.
We helped the customer with making the right selections from our range of products (boards, joists, end strips). Then we designed the optimal layout of joists to match the declared load bearing.
A cosy retreat
Enchanting mornings, lazy afternoons, magic evenings – the jacuzzi in our customer's garden turned onto a temple of bliss. We visited the gazebo a year after it was built. The flooring is in a pristine condition – it survived the winter without being worse off for it. It passed the load bearing test with flying colours. Our customer was able to start the summer season without interruptions but with a book, a glass of wine, friends and family.