Terrace cleaning and maintenance
Cleaning and care
of wood composite
surfaces
The surface of wood composite decking, like other elements on the outside of the house, is exposed to dirt. The dirt may be of natural origin, connected with the closest surroundings (e.g. pollen of grass, fall of nearby trees, sand) or may be caused by users (stains after coffee, wine, food). Regardless of the resistance of the composite wood surface to dirt, we recommend regular cleaning of the surface of the composite decking. This is not a complicated procedure and will result in a fresh appearance and preservation of the original colour of the composite surface. In the case of particularly stubborn stains, it is important that the cleaning is carried out as soon as possible. The most important instructions for cleaning Hartika composite wood are included in the instruction manual available on our website.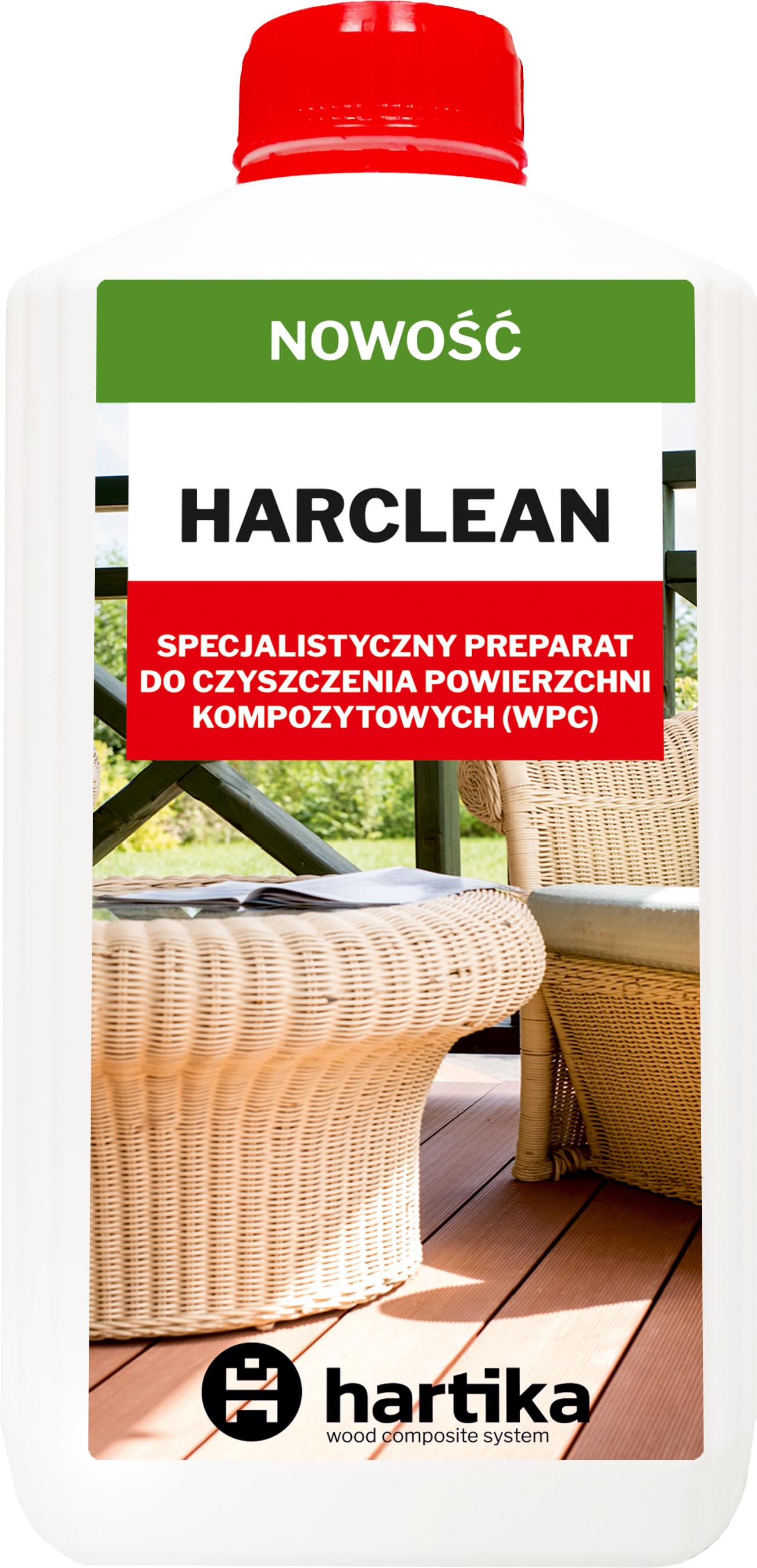 HARCLEAN
Specialized cleaner for wood composite surfaces
Harclean is a concentrated agent for manual cleaning and care of composite wood surfaces (WPC). It facilitates removal of dirt, stains, mould, sediments and other soiling from any surface made of wood composite. It cleans effectively and gently both terrace boards, fences, elevations and any other composite elements. We recommend it for both deep cleaning and ad hoc care. The product contains a specially developed composition of detergents which, by reducing surface tension and generating foam, facilitate removal of dirt from surfaces difficult to access (e.g. riffle recesses, the contact between the masking strip and the board). The detergents contained in the preparation are completely safe for composite materials, they do not reduce durability of the surface and do not react with colourings.
The formulation of agent was developed in cooperation with our laboratory and tested on Hartika composite wood.
Harclean is available in 1 litre containers (formulation weight 1 kg) from Hartika distributors.
Are you looking for information
on effective methods for wood composite cleaning?

Cleaning and maintenance of composite wood is an operation that every user of composite decking, as well as other decoration elements made of composite wood, will sooner or later find necessary. Wood composites are very durable materials; however, maintaining their beautiful appearance over the years must inherently involve cleaning. In our guide we have prepared some tips on how to clean composite wood.