Even the most advanced wood composite, like other materials used to build terraces or other outdoor elements, is subject to regular soiling. Importantly, the risk of soiling can be reduced, but its complete elimination seems impossible under conditions of normal use. Thus, every user of a terrace made of composite wood will sooner or later be faced with the necessity of removing soiling or refreshing the terrace.
Wash the terrace immediately after installation
Good quality composite decking has a brushed surface. As a result, their structure resembles natural wood, is warm and pleasant to the touch. During the brushing process, a certain amount of dust and particles produced by the brushing equipment remain on the outer layer of the boards. These particles are almost always present in new decking. They are susceptible to absorbing moisture and can cause optical discolouration of the decking which (fortunately only for a short period of time - up to the first cleaning) detracts from the positive visual effect.
Please note that it is the responsibility of the professional installer to clean up and thoroughly wash the terrace after installation. You can use water with a non-corrosive detergent, a stiff bristle brush or a pressure washer. It is important to rinse the surface of your new patio thoroughly with water in order to remove any small parts and dirt resulting from the installation. It is a good idea to carry out this first cleaning before the terrace is even used, particularly if furniture, plant pots, flowerbeds or similar items are to be placed on the terrace that restrict access to the entire terrace area.
We recommend performing the first cleaning of your patio:
- Composite cleaner and a hard-bristled rice brush
- Pressure washer (max. 60°C, 100 bar, with a minimum distance of 50cm and jet aimed at the grooves).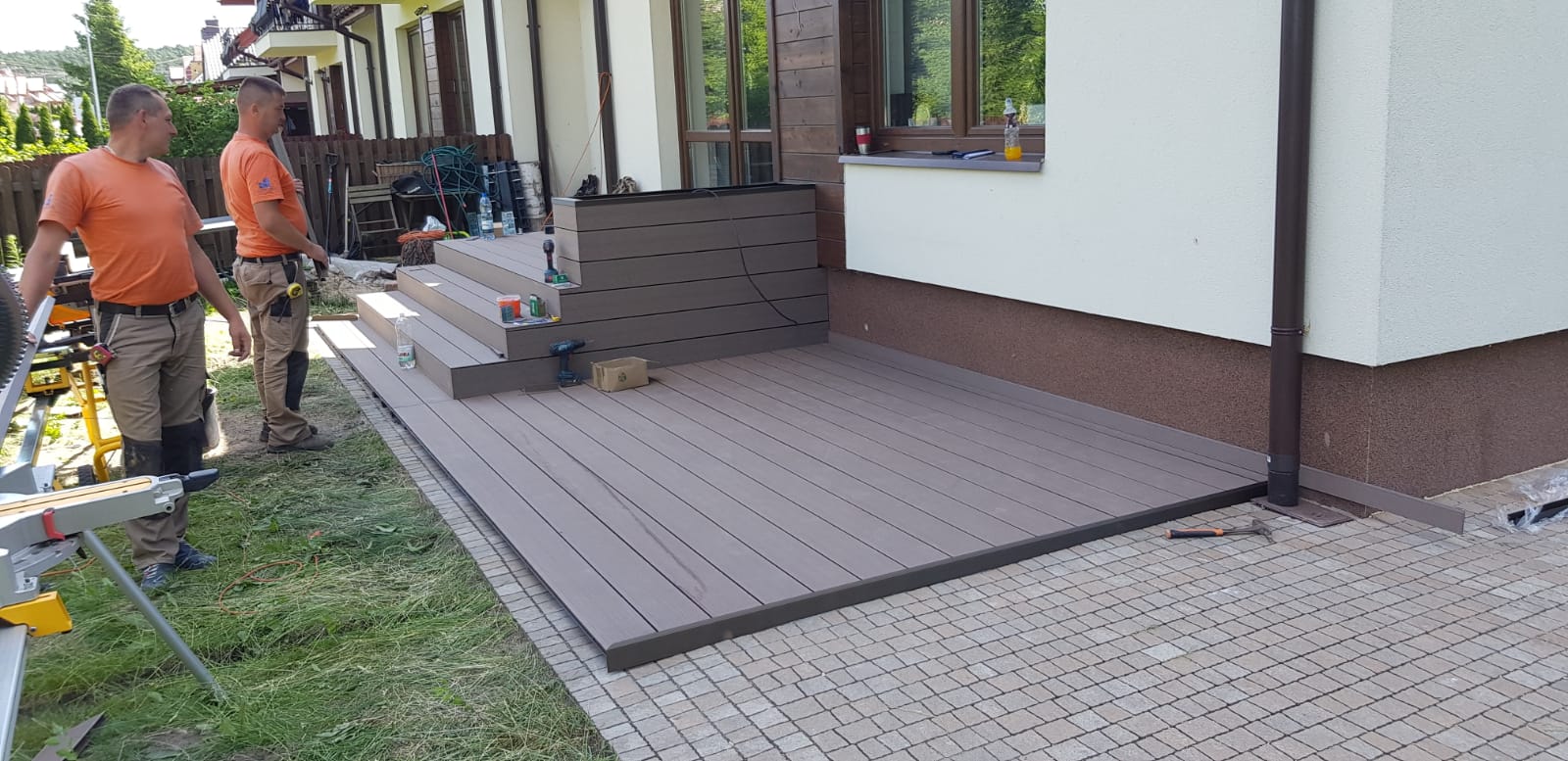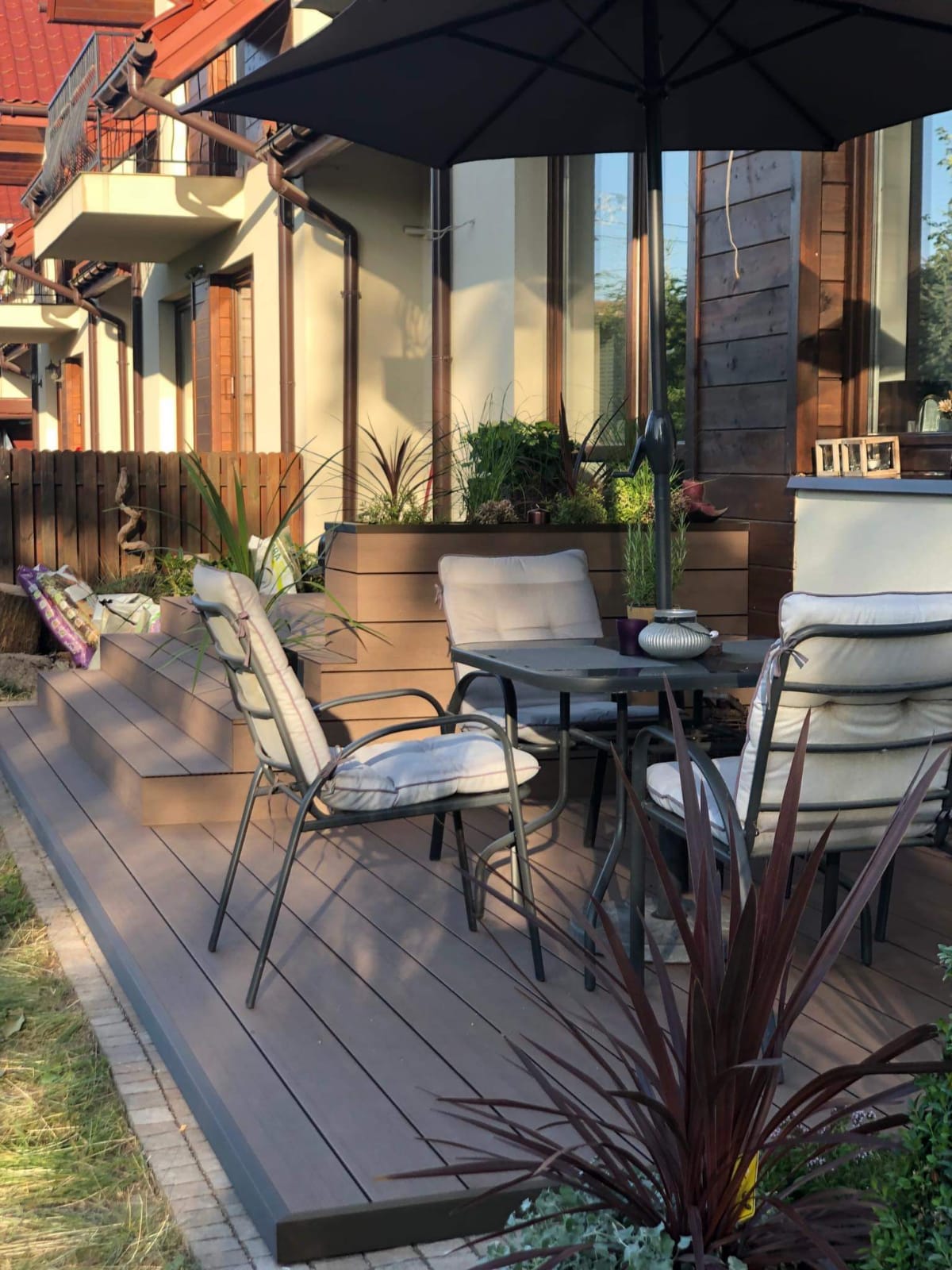 Regular cleaning preserves the colour and beauty of your terrace
Keeping a composite decking clean is not complicated. Normally, it requires a few spare moments to remove the residue with a broom or a water rinse. If rinsing with water alone does not have the desired effect, we recommend using a product dedicated to cleaning composite wood or a non-irritating kitchen detergent. If environmental conditions allow it, it is also possible to use a pressure washer. We discourage the use of rotary nozzles, acidic or alkaline detergents and products with intensive colorings.
Fat, red wine, dishes

Stains caused by fat and red wine require above all a quick reaction. Because of the particular colour contrast these stains give, they must be removed as quickly as possible. Immediate cleaning ensures the best effect, even if it is done with handy products such as water with kitchen detergent and a cloth or mop.
In the case of more serious contamination, we recommend using a rice brush with hard bristles and warm water with a cleaning agent dedicated to wood composites.
What if we have not noticed the dirt, but it has "set" on the surface of the terrace in the form of a dried stain? Regardless of the time that has passed, it is necessary to clean the soiled surface with a detergent and preferably with a dedicated cleaner for wood composites. This should be repeated at least twice to give the detergent time to penetrate the dirt. If the stains do not disappear completely as a result of this treatment, they will gradually disappear on their own.
Animal excrements
Contamination from animal excrements can be removed using water, a product dedicated to cleaning wood composites or other non-irritating detergents, or a pressure machine. Please note that some types of animal faeces can be highly irritating (acidic), causing local brightening of the wood particles contained in the composite structure. If you notice local color differences after washing, please leave such surfaces exposed to the weather. Exposure to sunlight in particular will lead to a gradual levelling of the colors.
Mould

Mould should be removed with water containing a preparation dedicated to cleaning composites or with a mild detergent that does not contain intensive colouring agents. In the case of mould, fungi and green moss growths that have been present for a long time, the cleaning must be performed several times until the fungi are completely removed from the surface of the boards. Anti-mould and anti-fungal products are available on the market. Due to the different levels of reactivity of these substances, we recommend that you check visually for discolouration before first use.
Basic rules for cleaning of composite surfaces
In order to remove all dirt, both light and strong, we recommend the following cleaning methods:
The action of water, detergent and dedicated WPC cleaning agents will be more effective if a hard bristle brush is used to remove dirt. In all cases, cleaning should be carried out in the direction of the grooves.
Please note that when using a pressure washer, it is necessary to protect the place of work, especially the walls and facades surrounding the terrace.
Which products to use for cleaning composites
There are various products available on the market dedicated to cleaning composite materials. Their manufacturers take care of the formula adapted to the specifics of wood composites, these agents, while supporting effective cleaning, do not discolor the surface of the boards, nor do they weaken the material from which the terrace is made.
In the lack of specialized agents, most composites can be cleaned using kitchen detergents available at home. When doing so, it is worth noting a few basic factors that define the usefulness of such agents. These include the absence of intense color (which could deposit on the boards changing their color) and neutral PH (strong acidity or alkaline reaction can lighten the color to an undesirable degree). Generating intense foam is an additional advantage of the detergent, thanks to it dirt in the crevices is lifted, which makes it easier to remove.
We also recommend using a stiff bristled brush (e.g. rice brush) when cleaning the decking. This makes it easier to penetrate the hollows of the decking and to remove particularly stubborn and permanently adhering substances.
HARCLEAN - recommended product for wood composites cleaning
In order to facilitate the care and cleaning of composite boards we have developed a product called Harclean. It contains a specially selected composition of detergents, which help to remove most common dirt from the surface of composite boards. We recommend it for intensive cleaning as well as for periodic maintenance and cleaning. The product is available at Hartika distributors.